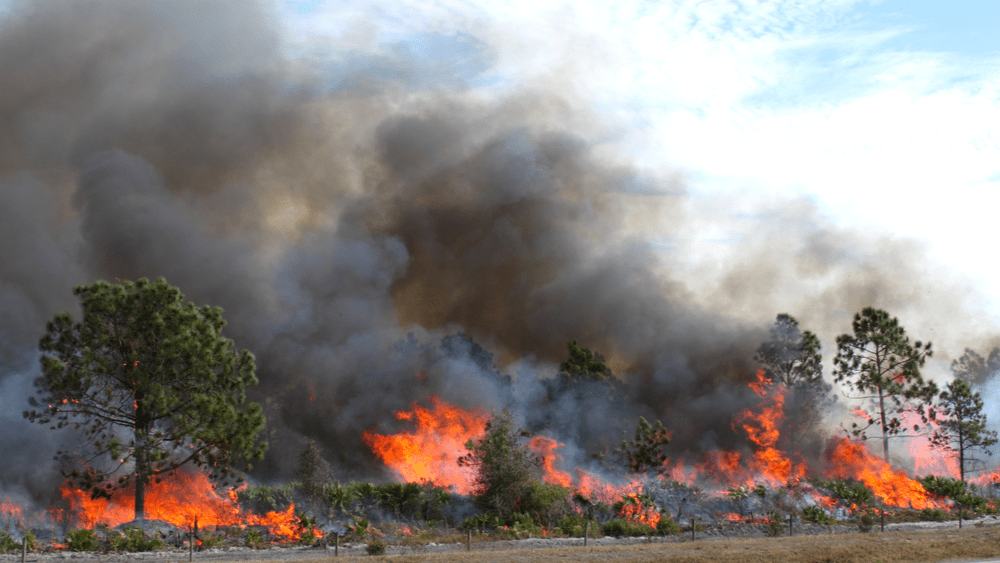 Florida state officials said Sunday that two wildfires in the Florida panhandle have burned nearly 10,000 acres collectively.  The Florida Forest Service said The Bertha Swamp Fire, which began in Gulf County, has spread to 8,000 acres and pushed into Bay and Calhoun counties, and was 10% contained as of Sunday morning, while the Adkins Avenue Fire held at 1,400 acres and was 35% contained.  Overall, 150 wildfires are currently burning more than 12,100 acres throughout the state.
Residents in the Bear Creek area were put under mandatory evacuation orders in response to the Bertha Swamp Fire and all existing evacuation orders from the Adkins Avenue Fire remained in place. Overall about 600 homes have been evacuated. The Florida Forest Service said there was no timeline for when residents will be allowed to return home.
A total of 17 tractor-plow units are combatting the Bertha Swamp Road Fire, while 25-tractor-plow units have been sent to build fire lines around the Adkins Avenue fire and more than 103,000 gallons of water have been dropped on the blaze since Friday. Officials said that both fires have been intensified by strong winds and dry conditions that are expected to persist throughout the region as fire danger levels remain elevated.
Florida Gov. Ron DeSantis announced that a state of emergency declared in response to the fires had been expanded to include Calhoun and Gulf counties, saying:  "Right now, the main focus is, of course, getting the fire contained, but we are marshaling assets and we will provide whatever the folks here in northwest Florida need."
Editorial credit: Tom Fawls / Shutterstock.com