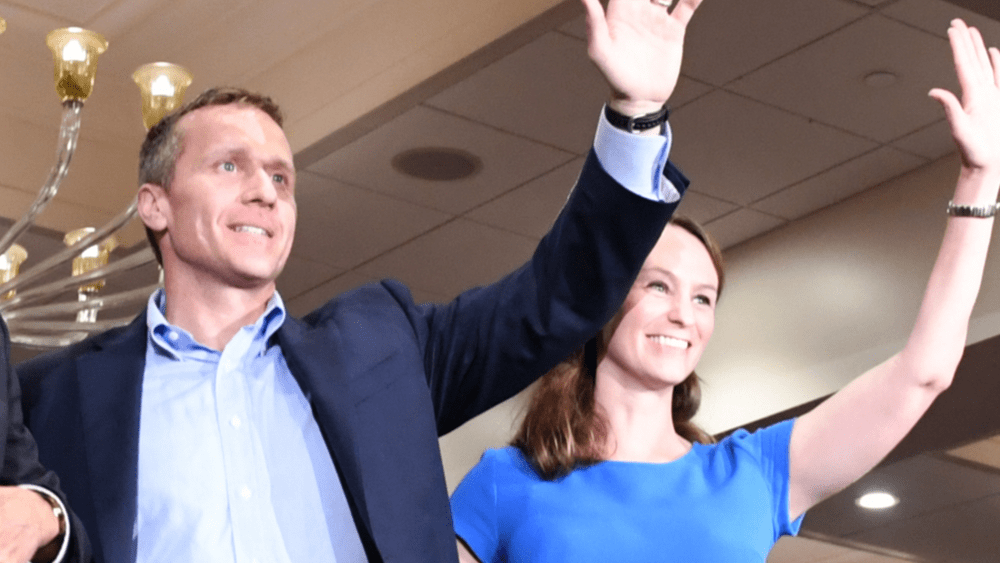 Eric Greitens, Missouri's former governor and current Republican candidate for U.S. Senate, has been accused by his ex-wife Sheena Greitens of allegedly being physically abusive and "unstable," according to court records filed on Monday.
Sheena Greitens and Eric Greitens have been part of an ongoing child custody battle. Their divorce was finalized in May 2020 and a county court decision said the marriage was "irretrievably broken" and that a joint parenting plan is "in [the] best interest of minor children." However, Eric Greitens has since said he wants full custody of their two children.
Greitens' campaign said that the affidavit is part of a "politically-motivated attack.  His children deserve a father who will speak the truth and stand up against malicious attacks that are clearly politically motivated. This attack is nothing more than a sad attempt to force a father to yield custody of his children to a deranged individual."  In a statement, Eric Greitens said: "I will continue to love and care for my beautiful sons with all of my being, and that includes fighting for the truth and against completely fabricated, baseless allegations. I am seeking full custody of my sons, and for their sake, I will continue to pray for their mother and hope that she gets the help that she needs," adding that "ultimately truth will always prevail."
Greitens served just over one year as Missouri's governor before he resigned in 2018 after allegations of sexual misconduct and blackmail for allegedly taking a picture of his former hairdresser with whom he was having an affair, as well as an ethics investigation and a computer data tampering criminal charge. Greitens admitted to the affair and called it consensual, but denied taking the photograph and the blackmail accusation. Prosecutors dropped an invasion of privacy charge related to the alleged incident in May 2018.
Eric Greitens is looking to succeed retiring Republican Senator Roy Blunt in his bid for U.S. Senate. Also in the field are Missouri Attorney General Eric Schmitt, Representatives Billy Long and Vicky Hartzler. Hartzler, Schmitt, Long and Lucas Kunce, a Marine and Democratic candidate in the race, have called for Greitens to drop out of the U.S. Senate race.
The deadline for candidates to file for the Missouri primary is March 29, 2022; the primary is slated to be held August 2.
Editorial credit: Gino Santa Maria / Shutterstock.com