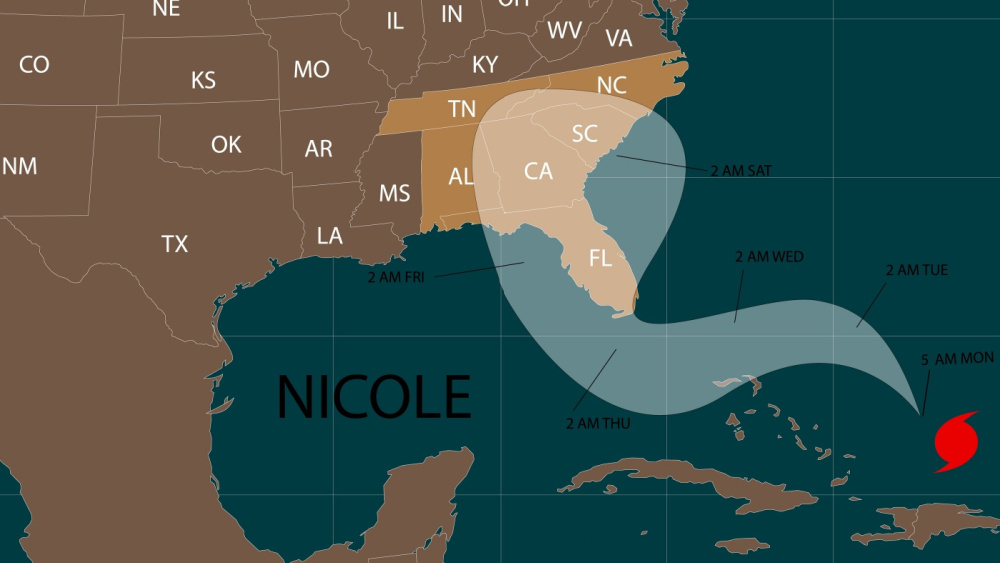 Hurricane Nicole made landfall on Florida's Atlantic coast early Thursday, leading to at least four deaths, widespread power outages, and the collapse of several homes. Nicole made landfall as a Category 1 hurricane, just six weeks after Category 4 Hurricane Ian, and weakened into a tropical storm shortly after making landfall.  Destructive winds and heavy rains along the coast created widespread damage as the storm travels over Florida.
The National Hurricane Center said that the hurricane made landfall just south of Vero Beach around 3 a.m. ET on the east coast of the Florida Peninsula on North Hutchinson Island, with sustained winds estimated to be around 75 mph.  The Orange County sheriff's office said Thursday afternoon: "Earlier today deputies responded to the intersection of Bayfront Parkway and Pershing Avenue and found a man who was unresponsive after he exited a vehicle and made contact with a downed power line. A woman traveling with the man was also electrocuted and was transported to the hospital, where she died."   Authorities in Orange County, Florida, said that two more people have been killed in a storm-related incident. Florida Highway Patrol said a pickup truck driving on the turnpike around 5:30 a.m. swerved toward the shoulder of Florida's Turnpike after losing control and struck a driver of a tow truck who was standing behind his parked truck; both drivers were killed.
Residents also faced widespread power outages Thursday with more than 303,000 customers without electricity in the state as of 1:30 p.m.  Nicole making landfall is rare for the region, as only two hurricanes on record have made landfall in Florida during November: Hurricane Yankee in 1935 and Hurricane Kate in 1985.
The National Hurricane Center warned that Nicole is forecast to bring a dangerous storm surge along parts of the east-central and the northeastern coasts of Florida, as well as portions of coastal Georgia and the Florida Big Bend along the Gulf coast. Flooding is also possible through the southeast US and the central Appalachians, extending northward through eastern Ohio, west-central Pennsylvania and western New York on Friday night into Saturday.
Editorial credit: Yaska / Shutterstock.com