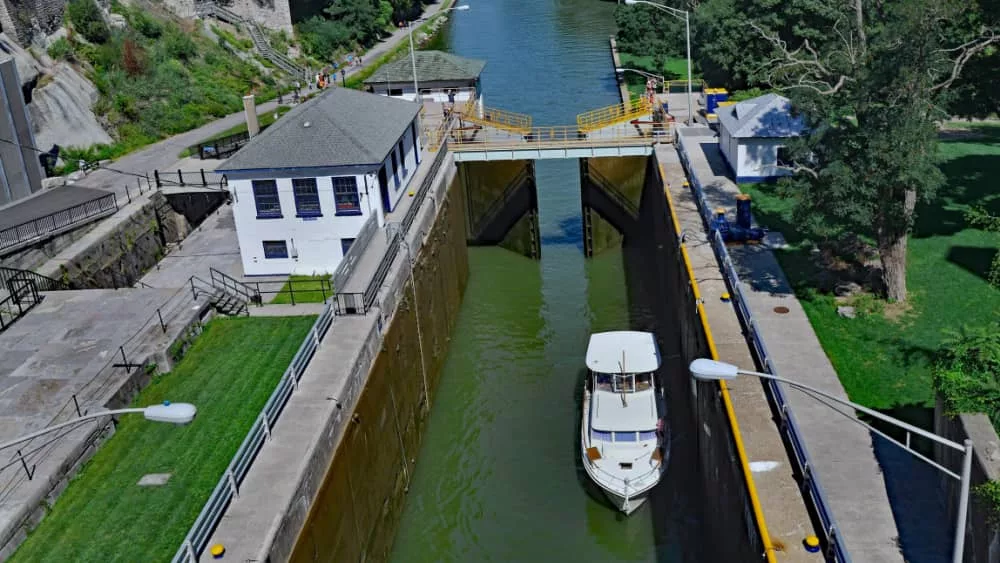 One person died after being trapped for at least an hour, after a tour boat capsized Monday morning in a cave along the Erie Canal in Upstate New York.  The tour was carrying passengers and one staff member from Destination Niagara through a series of caves in a section of the Erie Canal in Lockport, near Niagara Falls at the U.S.-Canadian border. The Lockport Police Department originally confirmed the incident in a statement shared to its Facebook page about an hour after it happened:  "Lockport police and fire departments, as well as several other agencies, are currently working to assist parties that were on a boat that capsized in the Lockport Cave Tours."
At a press conference on Monday afternoon, authorities said that the capsize happened during a stretch of the underground trip where tourists board a small boat and travel along a 300-foot channel inside the cave, where the water level hovers around five feet deep, although it exceeds six feet in some areas. The boat became unstable and flipped near the end of the channel. Authorities said there were 28 people on board the boat when it capsized before 11:30 a.m. The passenger who was killed was about 60 years old.  Fire officials and emergency medical personnel rescued 16 people from the water; 11 of those suffered injuries and were transported to a hospital for treatment. The rest of the passengers were able to emerge safely out of the cave.
An investigation into the incident is ongoing, and authorities said the area where the boat capsized will be considered a crime scene until their probe is complete. New York Gov. Kathy Hochul tweeted that authorities with the New York State Police, Division of Homeland Security, State Parks and Health Department were at the scene and assisting local officials in their response.
Authorities said Monday that the Lockport Cave Tours have proceeded without incident since they began more than four decades ago. Boat tours have taken place inside the Erie Canal's network of caves since 1977, while the caves themselves were created in the late 19th century.
Editorial credit: Spiroview Inc / Shutterstock.com