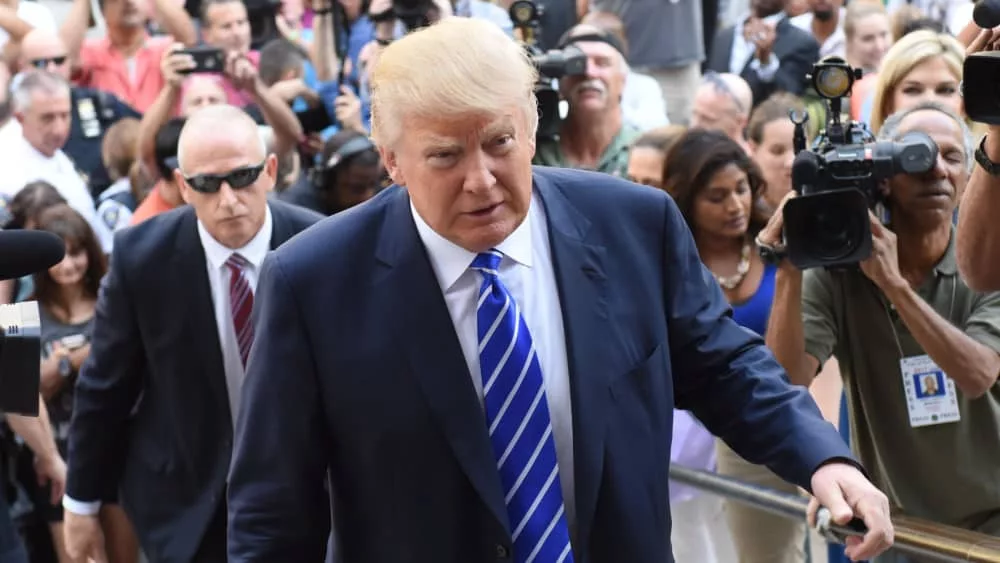 Former President Donald Trump was arrested on Thursday evening after surrendering at Georgia's Fulton County Jail, on a 13-count indictment for efforts to overturn the results of the 2020 election in Georgia. Trump is one of 19 defendants in the indictment that alleges racketeering by a criminal organization that tried to overturn the election results.
Trump was placed under arrest inside the jail; he was processed in about 20 minutes, which included authorities collecting fingerprints and a mugshot – which is in stark contrast to Trump's three other criminal cases, in New York, Florida and Washington, D.C., where he was processed at a courthouse during the same trip when he entered a formal plea to charges. Trump's booking photo, provided by the Fulton County Sheriff's Office, shows the former president in a blue suit and red tie. He was designated as inmate No. P01135809, with jail records indicating that Trump is 6 foot 3 inches tall and weighs 215 pounds. His arraignment in Georgia is expected the week of Sept. 5.
Trump agreed to a $200,000 bond and a list of strict conditions for his release — he is not allowed to make any direct or indirect threat against any witnesses, co-defendants, victims, property or the community, which includes any posts he makes on social media. Trump then headed back to Hartsfield-Jackson Atlanta International Airport for his flight back to Bedminster, New Jersey, where the former president made brief remarks, saying, "It's election interference. … We did nothing wrong at all. And we have every right, every single right to challenge an election that we think is dishonest. So we think it's very dishonest."
The Georgia case is Trump's fourth criminal indictment while campaigning for the 2024 presidential election. He also faces charges related to mishandling classified documents in Florida; business fraud in New York; and a conspiracy to overturn the 2020 election results, culminating in the Jan. 6, 2021, assault on the U.S. Capitol, in Washington.
Editorial credit: a katz / Shutterstock.com